Biden forgives up to $10,000 in federal student loan debt for certain borrowers and up to $20,000 for Pell Grant recipients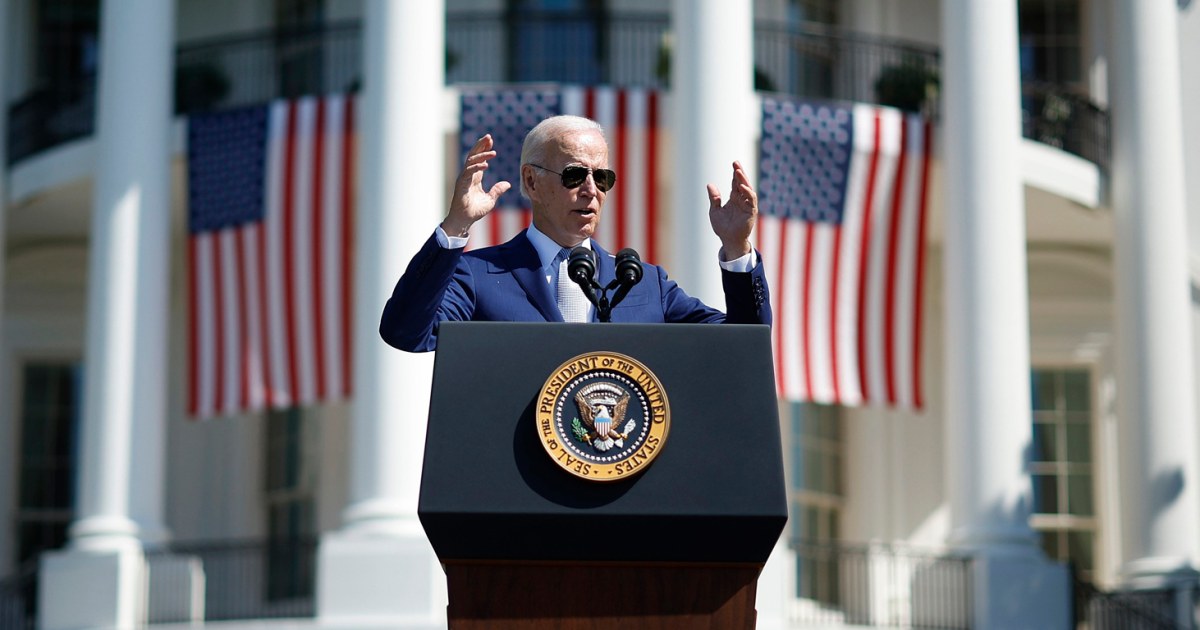 WASHINGTON — President Joe Biden announced Wednesday that he would forgive $10,000 in federal student loans for millions of borrowers, fulfilling his campaign promise to reduce student debt burdens.
Borrowers who earn less than $125,000 a year, or $250,000 for couples filing taxes jointly, will be eligible for debt forgiveness. Pell Grant recipients, who make up the majority of student borrowers, will be eligible for additional debt relief of $10,000, for a total of $20,000.
Biden is also extending the payment pause on federal student loans for one final time through Dec. 31.
Speaking at the White House, Biden said his actions would give "people more wiggle room."
"People can finally start to get out of this mountain of debt," he said. "When that happens, the whole economy is better off for it."
Borrowers may qualify for debt forgiveness based on their income in the 2020 or 2021 tax year. The Department of Education will release additional information on the steps eligible borrowers must take to ensure they receive the benefit.
Debt forgiveness applies to undergraduate, graduate, and Parent Plus loans. Current students may also qualify, but students declared as dependents will qualify based on their parents' income rather than their own.
The highly anticipated announcement comes after months of pressure from Democrats and student debt relief advocates for Biden to use his presidential authority to write off student debt.
Before the announcement, the president had been criticized for waiting only a few days before the August 31 deadline to announce an extension of the loan repayment moratorium, leaving millions of borrowers uncertain about whether they should start making payments for the first time in more than two years.
Biden also announces a new income-based repayment plan that would cap monthly payments for undergraduate loans at 5% of the borrower's discretionary income, down from the current rate of 10% in most existing plans. .
The White House said 43 million student borrowers will benefit from the president's actions and up to 20 million borrowers will have their entire student loan balance forgiven.
Still, the move falls short of the $50,000 in debt cancellation some Democrats have been calling for, and the narrow scope of the cancellation is likely to frustrate student debt relief advocates who have been calling for broader action. Some proponents also warned that the means tests would make implementation more difficult and argued that extending the payment pause by a few months would not be enough to adjust borrowers' balances.
"While this announcement is a major win for many, it's important to note that $10,000 will still leave many more crushed in debt, and important details will determine who has access to much needed help." , said Natalia Abrams, the president and founder. of the Student Debt Crisis Center.
In a call with reporters, a White House official said the income cap on debt cancellation would ensure relief goes to middle and low income people and help close the income gap. racial wealth. Nearly 90% of the aid will go to people earning less than $75,000 a year, according to the official.
Federal student loan holders have not been required to make payments since March 2020, when former President Donald Trump signed the CARES Act, which suspended payments until September 2020 and prevented interest from being charged. accumulate in an effort to mitigate the economic impact of the pandemic.
Trump then took executive action to extend the deferral period to January 2021. Since taking office, Biden has issued five more extensions.
The moratorium does not apply to borrowers with private loans.
About 45 million Americans have student debt. The Federal Reserve estimated that in the second quarter of 2022, Americans owed more than $1.7 trillion in student loans.
While most student borrowers owe less than $20,000, people with small debts often have a harder time paying them back because they may not have finished school or have degrees with lower earning capacity. to that of those with more debt.
Studies also show that students of color are more likely to incur student debt and struggle disproportionately to pay it off. The highest dropout rates are among students who attended for-profit institutions.