Coach Brian Daboll, CB Adoree' Jackson, WR Kenny Golladay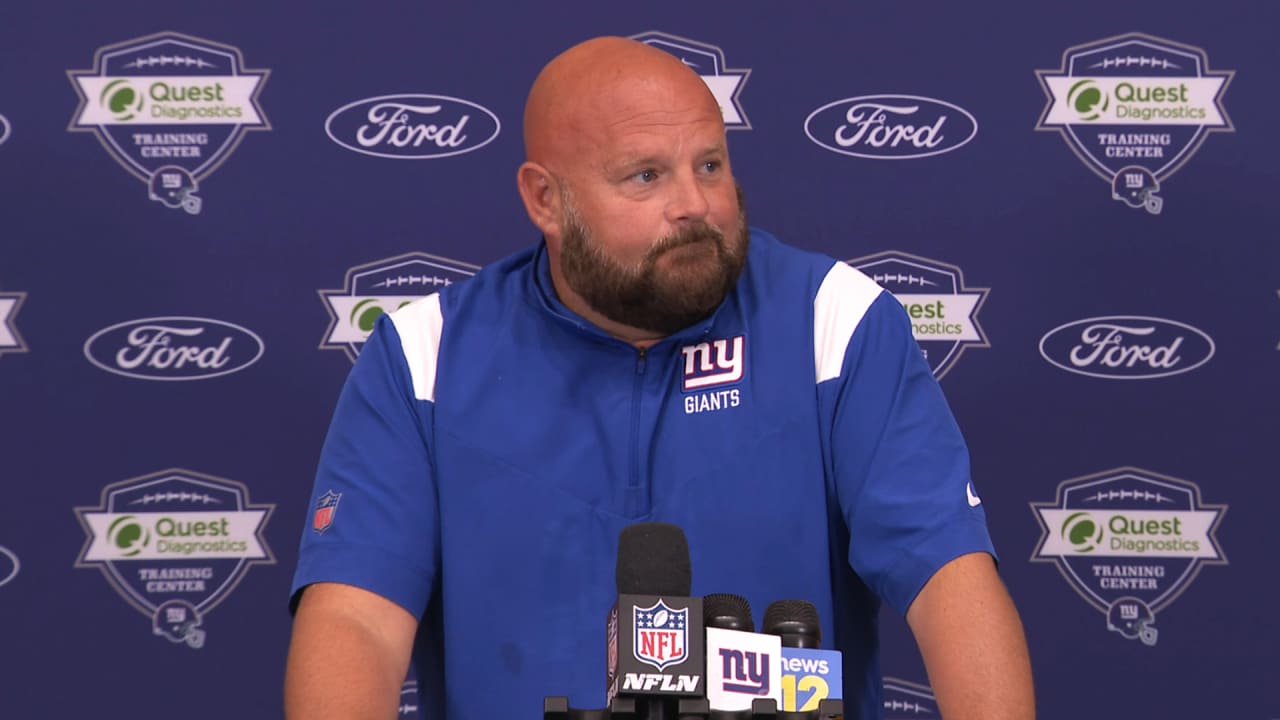 Daboll: Morning. How is everybody ? Good. I hope you had a good Sunday. A big week awaits us. As of today, we are at full capacity and will work under normal situations. The focus is on the racing game today. So with that, I'm going to open it.
Q: What specifically do you look for when going for full pads?
A: It's all about the fundamentals right now: leverage, hand placement, ability to split when caught and held. We allow more things in practice: picks and twists up front, power rushes, attacking defensive linemen when they jump in the… Different things we allow. So, this is where the game is played. But today we are looking for good energy. We place, I would say, rules on the practice. We don't knock them down. We have to take care of our guys. But I want to be physical. You want to be in a good position. Play with good leverage. Play aggressive. Move the line of scrimmage. Stop the line of scrimmage.
Q: Do you ever tackle on the ground in training?
A: We can. We can with our two and three at some point here. Probably maybe in a week we will have it scheduled for that. But we will see as we go along if we need it.
Q: Brian, do you get the feeling that players are rushing to put on the pads?
A: Yeah, this game is – the offense and the defensive line is an important position in our team. And we have to get these guys ready to go and learn how to play with our pads. Quarterbacks throw a little differently with the pads. And they are excited. But you should always try to talk to them about their expectations and the things we can and can't do. We only have a certain number of guys on our team. We want to keep them as healthy as possible.
Q: Will (guard) Jon Feliciano be back today?
A: He won't want to. Day or two away. But he will be here this week.
Q: Is it still like some kind of heat?
A: He is working on some things. So it will hopefully be tomorrow. But maybe the next day.
Q: Is his treatment intravenous only?
A: Yeah, he takes care of himself. They work with him. He will be fine.
Q: You gave (Guard) Shane (Lemieux) a few looks at center the other day. How did it go?
A: Yeah good. It's a beginning. We want to try and create some positional flexibility for our forward guys. And obviously with Jon out, you know with (Guard) Ben (Bredeson) and (Guard) Jamil (Douglas) we wanted to add Lemieux inside and work (Guard Joshua) Ezeudu inside with those against (Defensive End) Leo (Williams) and (Defensive Tackle) Dexter (Lawrence) and guys like that. He did a good job. We will also be working with him today.
Q: Is this something you consider a potential long-term migration for him?
A: I haven't traveled this road far enough. I just think positional flexibility is so important, whether it's Marcus (McKethan) at guard and tackle. For Jon (Feliciano) at guard and tackle. The more upfront you can make, the better for the player. The more opportunities they have.
Q: Coach, do you feel like some of the guys who missed some of spring training are maybe pressing a little too hard early on trying to catch up and maybe impress?
A: Nope. Again, it's just physical, mental. Physical reps where you have to do it over and over and over and you get different things. It's different than watching it on screen or talking about it. I think it's good for those guys. I don't think they are in a rush. I just think it's early for them.
Q: Coach, we're used to seeing a lot of 7v7s this time of year. I don't really remember seeing that so far away from you. Is there a reason you stayed away from it?
A: Yeah, we worked a lot in 7 against 7 in the spring. I like the quarterback to feel the people around him. There is a time and a place for it. In some of these places, instead of 7v7, we worked on individual technique, whether it was 1v1, 2v2, 3v3. Today it will be a lot of individual work towards the end of the game. 'individual. But I think it's important for a quarterback to feel the people around him in particular.
Q: Brian, when you say that – obviously calling dead plays for what would have been a sack – is there a line between like you always want (Quarterback) Daniel (Jones) getting rid of the ball to avoid be sacked or let him play though?
A: Absolutely. Absolutely. Absolutely. You want to mentally try in your head when you play quarterback, play the game as best you can. Get the ball out when you need to get the ball out. But there are other times when I will say to him, 'Look. Hold it and spin it. Let's see what it looks like down below. Again, you also assess your roster during training camp. So you want to see a defense come back – how is he going to be in the deep end of the pitch? Throw a bunch of gos on some corners, see how they react. So we try to do everything for a reason. And some of that is for evaluation purposes as well.
Q: Coach, is developing positional flexibility in the offensive line one of the biggest challenges for pros than in college?
A: Yeah, I don't know. Could be. When I was in 'Bama, we did the same thing. But that's how (head) coach (Nick) Saban wanted to coach the guys and things like the hat. I just think it's important. You only have a limited number of guys to hang out with. We do the same with receivers or secondary guys. You learn inside; you learn the outside. You learn the Z; you learn the X. There are injuries all the time. And people need to get involved. I had just met (Wide Receiver Kadarius Toney) KT this morning about position flexibility and I was like, 'Hey, can I add another position for you? I move you to this place. And do you feel comfortable with that? Or is it too much and it will make you play slowly? So I think you talk to your players and whoever can handle it, you try to do it with them.
A: The first KT. 89. (Linebacker Kayvon) Thibodeaux has yet to KT. KT to KT.
Q: Looks like you backed off a bit on 89 on Saturday…
A: Yeah, that was part of the plan for him in the spring, and he had a few good days. So do individual work. But he's fine.
Q: What did he say when you said, "Can I add a little something for you?" »
A: He said, 'Oh, yeah.' And he had this big smile.
Q: Now, are the players honest with you? Sometimes they say what you want to hear. If you say, 'Look, I think that would be good for you.' And they're like, 'No, I'm not ready for this.' …
A: I think it comes down to the relational part of the business. You want them to tell you the truth. It's like quarterbacks. You know, 'Daniel, do you like this room?' "Yeah, that's great." And then two months later, it's like, 'I didn't really like that piece.' Because he has become more comfortable with you. We're trying to speed that up with the players. They're the ones playing the game. And I want to be able to do things – whether it's kicking, defending, attacking – that guys feel comfortable with. And if they don't feel comfortable with it, give it a chance here and see how it looks after maybe two, three, four times, if it doesn't look good, throw it away and work it out on something else.
Q: Do you have less flexibility compared to a receiver (Wide) like Kenny (Golladay)?
A: No, KG's…I would say (Wide Receivers Coach Mike) Groh did a good job with these guys. They have a lot to learn. The receivers in our system, I would say, have a lot to learn. Lots of different positions to play. And I just think at the beginning of camp, when you think a little bit, there are a lot of things that go through your mind. And maybe you're not playing that fast. I'm not talking about KG in particular. I'm just talking receivers in general with the way we do things. And then, that's why we're going to give him another week or two, and things will calm down a bit. But it also helps them learn the whole concept of the game, which is important when playing against zone teams with spacing. Where to be. How to be there. You always get looks on different lags when you put KT in the slot and watch (Cornerback) Darnay (Holmes) and then put him on the outside. You're trying to get an assessment from your team right now too, to make good judgment on that.
Q: Brian, what type of feedback have you received from your players regarding Guardian Caps?
A: None. Yeah, they all – they wore them. We went there and had no discussions about them.
Q: How have you seen the rookie class meet the expectations of the game and what is expected of them?
A: They did a good job. There is a lot to learn as a beginner. We talked about it in the spring. Where to go, what to do, expectations off the pitch. (General Manager) Joe (Schoen) and I have communicated with them several times on expectations, which are fundamental for us. You know, this is our first course that we wrote. They've all done a good job of things off the pitch, how we want to approach things, and then taking care of themselves, learning from some veterans. And they did a good job on the training ground in competition. I have a long way to go, but I was happy with how these guys – all of them – did it. And (Director of Player Engagement) Ashley Lynn has done a really good job with our rookie development program. We have to keep grinding. It's a long season.
Q: What do you think about the fact that you probably have the option of having five rookies playing rookie-type roles? It's a lot.
A: Yeah, I'm not that far ahead. I just – we'll face the best guys, whoever they are. Whether they're drafted in the first round, whether they're a 10-year veteran. We'll try to put the best guys out there. And if it's five rookies, if it's 10 rookies, when you're a coach, and you're also a position coach, the veterans on the team have more experience. They know what to do. You feel comfortable with them. And the older I get the recruits who maybe don't quite know what to do but have really good talent you're going to have to go through some growing pains with them as you develop them to get them to where you want you to return. But we're going to face the best guys that we think give us a chance to win, whether it's, again, a rookie, a 10-year veteran, a first-round pick, a free agent. This is how we will approach the question.
Q: What's the difference between a guy having fun and doing something stupid? As (Quarterback) Tyrod (Taylor) runs for a touchdown, dunks on the crossbar and everyone goes, 'Ooh' and 'Ah'. And I'm sitting there saying, 'What if he tore his Achilles or.'
A: Yeah, you hope they don't get hurt. But they have good juice there right now. You better not bewitch us now.