Hope dims that US can meet 2030 climate goals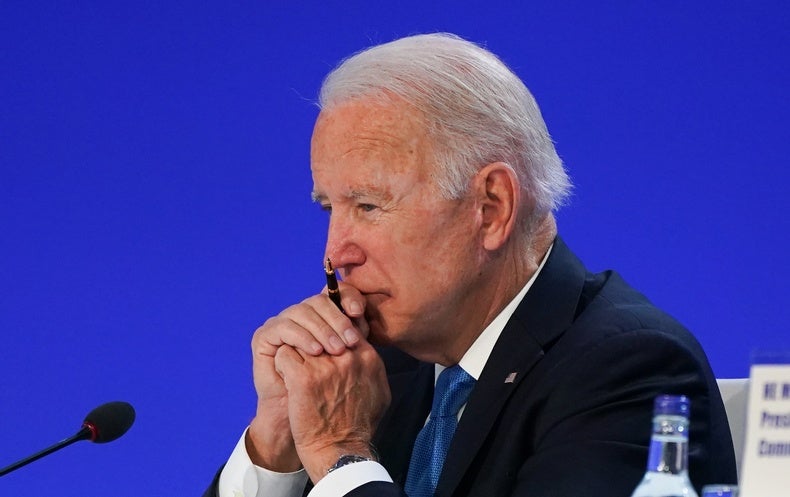 CLIMATE WIRE | Almost everything has to go right for America to meet the climate goals set by President Joe Biden. So far, very little has.
The Supreme Court limited the EPA's power to make greenhouse gas regulations for power plants. A major legislative push ended in failure after facing opposition from Sen. Joe Manchin, a conservative Democrat from West Virginia. And the political landscape has been dramatically altered by a spike in energy prices, with gasoline prices briefly averaging $5 a gallon last month.
This combination makes it increasingly difficult for the United States to meet the emissions targets Biden has set to comply with the Paris climate accord. The US NDC, or Nationally Determined Contribution as the goals are officially known, is a 50-52% reduction in emissions from 2005 levels by 2030.
"Clearly the NDC will not be achieved," said Robert Stavins, professor of energy and economic development at Harvard University. "The question is how far the administration will be from what it has committed to."
Not all analysts are so pessimistic. Some note that the legislative and regulatory pathways to achieve deep carbon reductions remain open. But almost everyone agrees that the Biden administration's window for action is closing fast.
In a recent analysis of America's progress, the Rhodium Group concluded that US emissions would fall 17% to 25% by 2030 under the current policy scenario. That leaves the country 1.7 billion metric tons to 2.3 billion metric tons short of Biden's target.
"The next year will be very important in determining whether the US 2030 goal remains within reach," said John Larsen, a partner at Rhodium. "Things haven't gone as well as they could have so far. You have to buy time and catch up."
Achieving the president's goal would require a combination of new federal regulations and infrastructure investments to clean up power plants, factories, homes and vehicles. It was always going to be difficult in a tightly divided Senate where Manchin is often the deciding vote.
Biden has had a few victories. An infrastructure bill passed last year provided funds to keep nuclear plants online; perform network upgrades; and research emerging technologies such as direct air capture, advanced nuclear reactors and hydrogen.
The president has also advanced permits for a series of offshore wind projects along the East Coast, which are seen as essential to cleaning up the region's power grid. And it reinstated tougher tailpipe standards for light-duty vehicles that had been rolled back under former President Trump.
But it will likely be years before these measures begin to pay climate dividends. The first offshore wind project, a small development of 11 turbines powering New York City, is not expected to start producing electricity until late next year. Many analysts do not expect technologies such as direct air capture or hydrogen to be deployed on a large scale this decade (climate wireAugust 13, 2021).
"I continue to be hopeful that there will be a legislative victory that puts us on the right path to the goal," said Robbie Orvis, senior director of energy policy design at Energy Innovation. "But the target was still hard to hit and it took a long time to get straight."
Democrats could still agree to include climate provisions in a budget bill. Manchin is in negotiations with Senate Majority Leader Chuck Schumer (DN.Y.) on the form of an agreement (green wire, July 6). Reports from the Washington Post and NBC News put the value of climate provisions at around $300-350 billion. That's less than the $555 billion passed by the House last year, but it would still represent a historic investment in green technology.
The EPA also has an array of tools to snatch additional CO2 reductions from the electricity sector. While the agency can no longer pursue a systemic approach to emissions regulation following the Supreme Court's ruling, it can still pursue a combination of plant-specific CO2 standards and stricter emissions rules. air pollution (climate wireJuly, 1st).
Reductions in the electricity sector are particularly important to meeting 2030 goals. When Rhodium modeled how to meet Biden's goal, he found that power plant regulations included 250 million tonnes of emissions reductions. in 2030. Only major congressional action has brought more.
That's why it's important for the EPA to act on tougher climate and air quality rules, said Leah Stokes, a professor at the University of California, Santa Barbara, who studies climate policy. and advocated for aggressive federal climate action.
"Now there is more clarity on what the EPA can do," she said. "We are in a better position in some respects. The EPA has no excuses and can start moving forward with rules.
Yet the path ahead is strewn with potential pitfalls.
It's unclear what the budget bill being negotiated by Manchin and Schumer entails. The West Virginia senator has expressed doubts about subsidies for electric vehicles, which are widely seen as a key tool to limit transportation emissions (Daily O&M, June 23). Manchin is also reportedly opposed to revising subsidies to wind and solar power providers (Daily O&M, June 21st). The bill passed by the House last year would have provided subsidies in the form of direct payments instead of tax credits (climate wireNovember 16, 2021).
Any new EPA regulations are almost certain to face legal challenges. It is an open question whether these expected rules would be viewed by the courts as a traditional application of agency powers or a veiled attempt to phase out fossil fuels. In its ruling last week, the court said it would strike down regulatory attempts that forced generational switching without explicit congressional approval.
The EPA's tools are better suited to regulating emissions from coal-fired plants than from gas-fired plants, said Paulina Jaramillo, a professor who studies the electricity industry at Carnegie Mellon University.
Coal-fired power plants are major emitters of air pollutants such as particulates, sulfur dioxide, and mercury, which are covered under the Clean Air Act. Standards for these pollutants could be made stricter, prompting some coal-fired power plants to shut down and further reduce CO2 emissions, she said. Gasworks, on the other hand, emit few of the traditional air pollutants covered by the Clean Air Act.
The EPA could also issue a greenhouse gas rule requiring carbon capture at existing power plants. Whether this is limited to coal or extended to gas is unclear, Jaramillo said.
Coal-fired power plants accounted for 54% of electricity sector emissions in 2020, while gas-fired power plants were responsible for nearly 44%, according to EPA data.
"At the end of the day, I think for air pollution and climate, the tools to deal with that from natural gas systems just aren't as clear as they are for coal," she said. declared.
In the meantime, Biden faces a difficult political environment due to high prices at the pump. The national average gasoline price briefly topped $5 a gallon last month and remains north of $4 a gallon.
This prompted a shift in the president's rhetoric. While he promised to end drilling on federal lands during the 2020 presidential campaign, recent weeks have seen him urging drillers and refiners to produce more.
"The bottom line is that it was always clear that it would be extremely difficult for this administration to quantitatively meet their NDC," said Stavins of Harvard. "It got harder and harder."
Reprinted from E&E News with permission from POLITICO, LLC. Copyright 2022. E&E News provides essential information for energy and environmental professionals.