How to sleep with back pain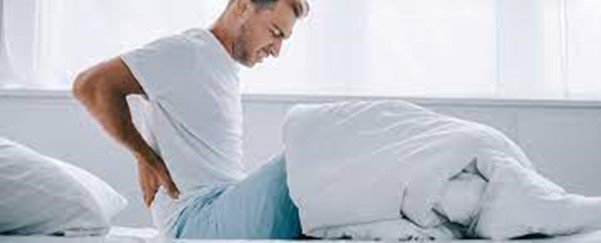 Sleeping with back pain is difficult. You keep twisting and spinning all night long to get to the correct sleeping position for a few hours, but to no avail. Although sleep plays a role in the healing process for back pain, you may feel restless and restless through the night due to the pain. It affects your day-to-day functioning and mobility.
Before we dive into the ways to get rid of your back pain, let's take a look at the causes. There is a wide range of causes that lead to back pain, including sciatica, a herniated disc, poor posture, a bad ergonomic office chair, a poor lifestyle that reduces your mobility, and heavy lifting.
Most people tend to experience it in the morning or during working hours. Usually it is sunny all day until you need to rest, and it starts to show when you relax on the sofa or bed.
The best sleeping position for you is when your body is comfortable and keeps your spine as neutral as possible. Our body has three big curves that we need to take care of. The three curves are the lower back, the middle of the back and the curve of our neck.
When you sleep on your back, your neck should not be bent or stretched out. Adding pillows is the best way to support your spine and body. Check the pillow padding; it should not be too full or have less infill than usual. Always have a pillow that keeps your neck in a neutral position, neither flexed nor extended. It must fill the space between the neck and the mattress. Add a small pillow to fill the curvature of your spine or use a wedge pillow. Add another pillow under the knees to keep the legs in a neutral position; this reduces stress on the anterior muscles and minimizes the anterior tilt of the spine.
When you sleep on your stomach, you need to rotate your neck to either side to breathe. This makes you sleep through the night in a turned neck position. It is not the best position to sleep. This position is best for people with a herniated disc. To minimize sagging back and arched stomach in bed, you can add a flat pillow under your stomach and thighs. Consider sleeping with a flat pillow under your head or without a pillow at all.
Lying on your side is the most common position most people sleep in. Sleeping on your side can injure your neck, back, torso, and hips. If the pillow is too high, your neck is too high, causing stiffness in your neck and upper back. Some people find it very difficult to maintain a lateral position. At night, they sleep in this position but wake up in very unusual positions. Their head may be supine, but their torso is turned to the side or their head hangs down from the pillow, which usually happens when the pillow is too high. To minimize spinal rotation and support your body in this position, take a thick pillow that keeps your neck and upper back aligned, add a thin pillow below the curvature of the spine, or add a pillow between your legs. You can add it by flexing the top leg or keeping both legs straight.
For more sleep tips for back pain issues, visit riverjournalonline.com/back-pain.
Joseph Rendina is a doctor of physiotherapy and owner of Iron Health in Briarcliff Manor, Peekskill and Ardsley. You can reach him at 914-488-5763 or at www.ironhealth.co.